So maybe you thought turning off the Search Module during development might accelerate Sitefinity's startup process.
It sounds like a great idea in theory, but in reality it will crash your project when it runs.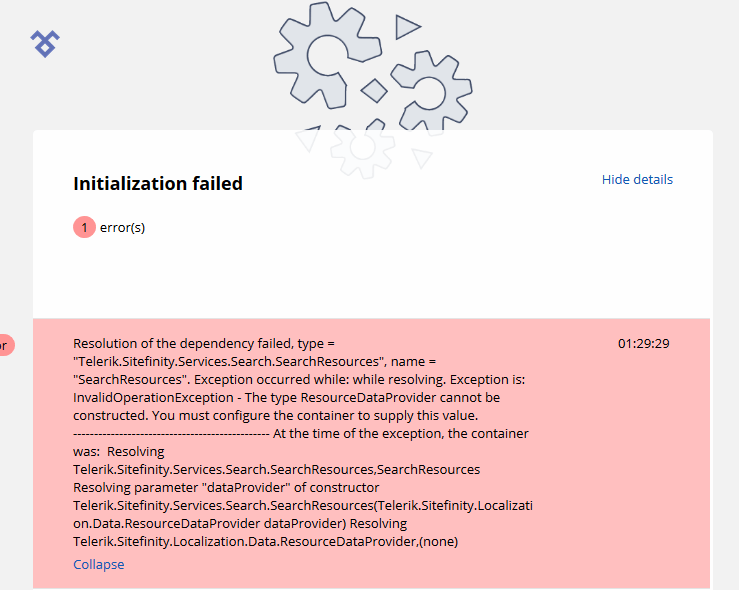 What's worse, you can't even log back into Sitefinity to turn Search Module back on.
But don't worry--you can just jump into the SystemConfig.config file and enable it there.
It is a good idea to disable any modules that you're not using. In theory this will speed up your website, especially during a restart.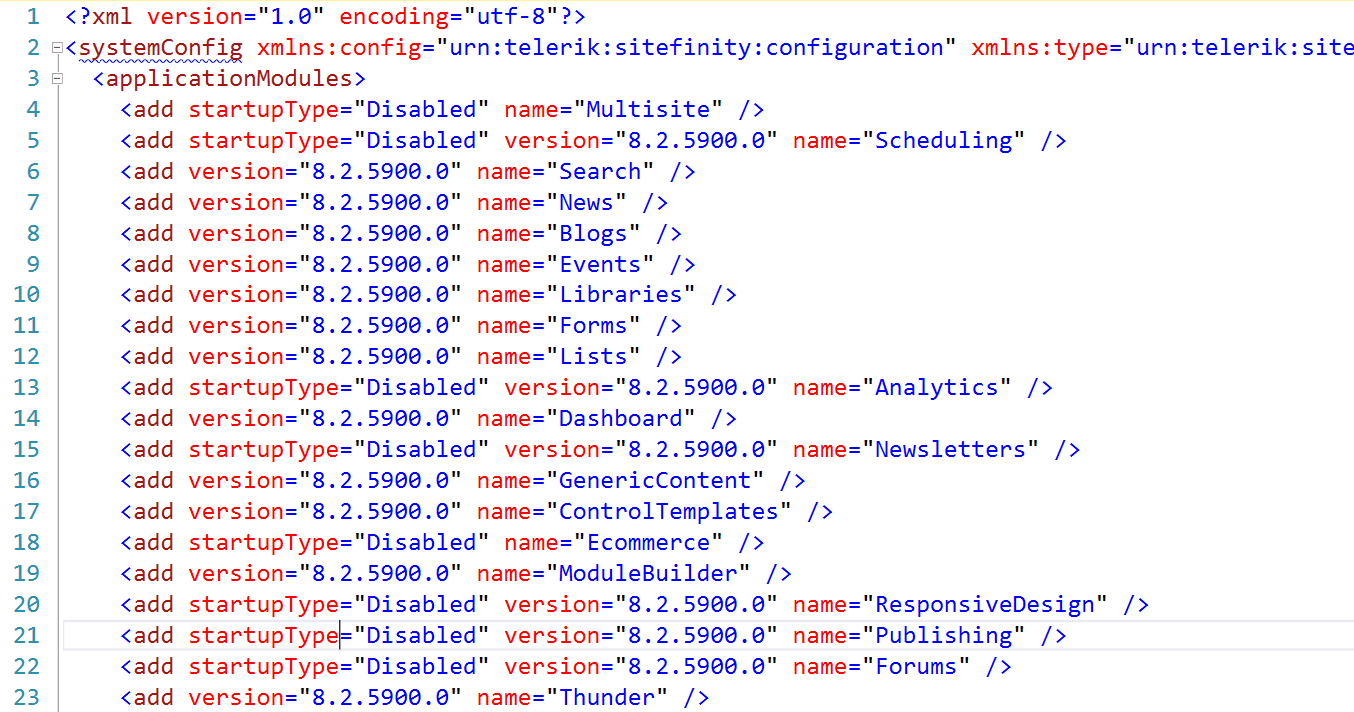 Now just rerun the site and away you go!
<?xml version="1.0" encoding="utf-8"?>
<systemConfig xmlns:config="urn:telerik:sitefinity:configuration" xmlns:type="urn:telerik:sitefinity:configuration:type" config:version="8.2.5900.0" build="5900">
 <applicationModules>
 <add startupType="Disabled" name="Multisite" />
 <add startupType="Disabled" version="8.2.5900.0" name="Scheduling" />
 <add version="8.2.5900.0" name="Search" />
 <add version="8.2.5900.0" name="News" />
 <add version="8.2.5900.0" name="Blogs" />
 <add version="8.2.5900.0" name="Events" />
 <add version="8.2.5900.0" name="Libraries" />
 <add version="8.2.5900.0" name="Forms" />
 <add version="8.2.5900.0" name="Lists" />
 <add startupType="Disabled" version="8.2.5900.0" name="Analytics" />
 <add version="8.2.5900.0" name="Dashboard" />
 <add startupType="Disabled" version="8.2.5900.0" name="Newsletters" />
 <add version="8.2.5900.0" name="GenericContent" />
 <add version="8.2.5900.0" name="ControlTemplates" />
 <add startupType="Disabled" name="Ecommerce" />
 <add version="8.2.5900.0" name="ModuleBuilder" />
 <add startupType="Disabled" version="8.2.5900.0" name="ResponsiveDesign" />
 <add startupType="Disabled" version="8.2.5900.0" name="Publishing" />
 <add startupType="Disabled" version="8.2.5900.0" name="Forums" />
 <add version="8.2.5900.0" name="Thunder" />
 <add startupType="Disabled" name="Personalization" />
 <add startupType="Disabled" version="8.2.5900.0" name="SitemapGenerator" />
 <add startupType="Disabled" version="8.2.5900.0" name="SitefinityDAM" />
 <add startupType="Disabled" version="8.2.5900.0" name="MobileAppBuilder" />
 <add startupType="Disabled" name="SharepointConnector" />
 <add startupType="Disabled" version="8.2.5900.0" name="EverliveConnector" />
 <add startupType="Disabled" name="MarketoConnector" />
 <add startupType="Disabled" name="SalesForceConnector" />
 <add startupType="Disabled" version="8.2.5900.0" name="DataIntelligenceConnector" />