Organizing your Hubspot inbound marketing campaigns can be difficult for any company, especially those new to the software.
There is so much to learn, plan and implement before you can settle into a routine that the word overwhelming seems like an understatement.
But,one way to make this process a little less painful is to focus on the important aspects, or the essential elements necessary to kick off success.
Let's have a look:
1. Training
Whether your a Hubspot user or a partner client there are classes that you can and should take to understand how inbound marketing works and how your company can best work with the campaigns to find success. >
Here are links to Hubspot Academy, Certification and Knowledge Base:
Hubspot Academy- The training is always updated as inbound does change over time, classes are continuously available and free.
Inbound & Hubspot Certification are free. Inbound teaches you all about the methodology of Inbound marketing, this is great for your ENTIRE team - anyone that works with your marketing team should get inbound certified. It will make communication and planning much easier for everyone involved.
Hubspot certification is specifically for those who will be using the software; bloggers, analytic specialists, social media personel and copywriters, all should take this free training.
Knowledge Base- Have a question about anything related to inbound marketing? This is the place to go, you can look through the subjects or type in your problem, free as well.
2. Organization
With so many moving pieces of a campaign, there are likely to be several people working on the project that organization is necessary.
Many companies have tried to stick with email to handle this organization, but email leaves a lot to be desired. There are several alternatives that are free to paid options that will help you manage team members, tasks, time allotment, tool costs, even employee and contractor payments.
Here are the most commonly used project managers among Hubspot partners:
Teamwork - This software is recommeneded by more Hubspot partners than any other project manager, it's great for larger teams with many levels of contributors.
Asana - This is a free version that implements Harvest for time tracking. It does allow you to drill down in lists and to-do's on multiple levels, assign due dates and tag in documents from the cloud.
Trello- Similar to a spreadsheet layout this tool allows for a great deal of information, tagging, alerts and labels for each spreadsheet cell. In Trello though, you have boards (the spreadsheet itself), lists (columns) and cards (cells). This is particularly great for writing up ideas, and can be used effectively as an editorial calendar.
Basecamp - Used by Hubspot to help onboard new clients and partners. This tool has been around the longest and is the most widely used project management software online, it has a paid only version.
Podio- Podio offers a very nice dashboard that keeps people up to date on what they need to know for their projects, due dates and contacts. It also allows for messaging between users which is a handy feature to keep email cleaned out.
Unfortunately, since all companies have different needs you'll have to try each of the softwares on your own to see how they work.
During a recent survey, project manager users metnioned they still didn't have a perfect program yet, so you may have to choose something that isn't perfect for you.
3. Strategy
When you first start your inbound marketing campaign, there are so many options as to what you can blog about, what you can giveaway, etc. Offering information is the first thing companies get excited about and they immediately start throwing out all of the great content they can.
But wait!! There's a problem. The information you are throwing out may seem great to you, but is it what your readers and clients want? Is it even information they'll likely read?
Too many people are interested in sharing what they want to say about their product, their thoughts on leadership, their solutions and their ideas. This is not what your readers are coming to see. Over time you can share this, but in the beginning you must focus on a strategy.
Hubspot helps you do this through with your Personas, Buyer Stages and the Inbound methodology (attract, convert, close, delight).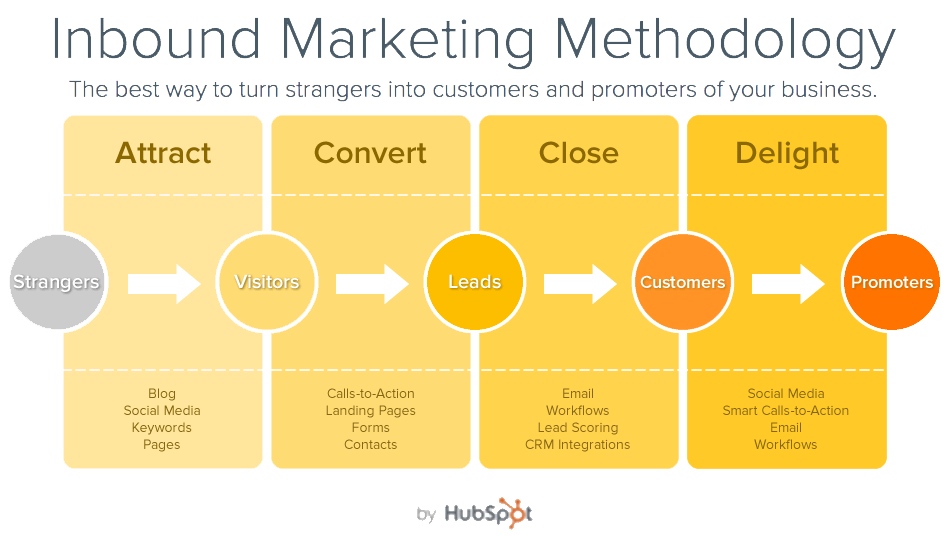 In the beginning every piece you produce should meet the following requirements:
Be specific to a buyer persona (yes, you have to set them up)
Be specific to a stage in the buying process (awareness, consideration and decision)
Focus on the information the buyer wants while delivering what they also need at that stage
Be easy to read - talk on a level your buyer understands- no acronymns, big words, etc.
Include a call to action to learn more
What does your buyer need to know?
Please remember that people are looking for the things they want to read, not the information your company thinks they need. While they may in fact need that information, if they do not want it, they won't read it.
4. Editorial Calendar
In our last blog post for Hubspot users we discussed editorial calendar options. An editorial calendar should be in place for planning content, and you should have some kind of system for tracking past content, as well.
For our editorial content we use a spreadsheet that is updated on Google docs, with multiple tabs, such as:
Blog Content- upcoming blog posts that have a scheduled date to go live.
Other Content- landing pages, slideshares, videos on Youtube, guest posts, old pages we no longer promote, other online assets, etc.
Blog Ideas- a place to store the ideas we have for multiple types of blog posts for the future. As we are ready to use them we bring them into the actual Blog Content tab.
Columns in our Editorial Calendar- we list out the Author, Status, Buying Stage, Title, Persona, and Call to action. Over time you'll discover different columns of informaiton you want to include or discontinue. The sort feature in the spreadsheet is great to use to see where you have too much content, what buyer personas you need to write more for, how far into the future you have planned out, etc.
Take a look at our past post to get more in-depth information about Editorial Calendar use for inbound marketing.
5. Content
It goes without saying your company needs content to make an inbound marketing campaign successful. Content comes in many forms:
Blogging
Landing pages
Giveaways
Emails
Social media
Visual
t it will need to be continuously added to bring in more exposure to your website and landing pages. As explained above, you'll need to carefully plan out your content based on your personas and the buyer stages of sales.
Blogging needs to be offered several times a week to launch a campaign and begin harnessing enough traffic to capture leads. Companies should be ready to write at least twice a week, with this said the more often you can blog, the faster results will be seen.
Landing pages should be added on a regular basis as well. Companies with the most leads have had several campaigns and landing pages to generate those leads. Each landing page gives you the opportunity to test multiple calls to action for best results. Your goal should be 15+ landing pages.
Write Follow Up Emails
Email marketing is one of the areas of inbound marketing that is often overlooked, put aside and under utilized. After all of the work of constructing the campaign, some companies decide they'll follow up with each lead separately.
Unfortunately, this leaves a gap in the campaign that usually kills sales and relationships with the prospect early in the process. As part of the campaign, put together follow up emails in advance, so that your leads are continously nurtured from the moment they enter your system.
6. Personas
We all believe we know who our target market is - the people who buy from us. But, when you construct an inbound marketing campaign, you take a hard, in-depth look at these people.
The goal is to figure out what they need from your company, what pains they suffer from, what issues and problems they are having, and how your solution best fits them, among much more detailed information.
You want to know as much about them as possible. Far too many companies using Hubspot overlook this foundational, absolutely necessary element of inbound marketing. It is the very basis for your campaigns and without it, inbound marketing won't be nearly as successful.
How important is it? Another verified partner of Hubspot recently stated that they had taken 4-6 weeks to properly construct personas for their new clients. Imagine how much they learn from this time investment and the level of information they receive in order to properly anchor a campaign for success.
7. Analysis & Tracking
No software offers the same lead tracking and analytical information that Hubspot uses, and for many this is the exact reason businesses sign up to be customers. Learning who your visitor is before they leave any information and then being able to track them uniquely once they have become a lead is invaluable for any business in sales.
Number of Pages Visited - A nice feature of Hubspot is one that allows you to see how many pages a visitor has visited on your website. Using this feature you can begin to estimate how much information a person needs to become a lead or close a sale.
Businesses Who Visited- Even before your visitor is a lead, Hubspot can tell you what company they are visiting from, this is exciting information that shows how far your content is going.
Where Leads Come From- You'll want to know if your efforts on social media, blogging, and guest blogging are bringing visitors and leads to your site. With this feature you'll see which source of traffic is contributing to your bottom line- allowing you to make changes in future campaign planning.
Along with being able to see your analytics, you have to know how to use that information to make better decisions for your business. Hubspot offers classes on analytics, that you can access on their website.
Summary
Your inbound marketing campaign will take a lot of time investment, especially if you are doing it right. The results, are well worth the investment and may be the single significant change you've made this year on the road to improved success.
ny succeed! Feel free to send us your questions and we'll do our best to help you out, no strings attached.