In this post, we'd like to discuss the all important and missing feature in Hubspot: An Editorial Calendar.
In a software and methodology where publishing content is imperative to success, it is surprising that Hubspot hasn't yet integrated this feature.
So let's discuss 5 options for creating a Hubspot-friendly editorial calendar that can be accessible to everyone on your team.
1. Spreadsheets
Many companies have found a spreadsheet to be a great way to keep everyone involved and to show what needs to be scheduled and when.
Spreadsheets for editorial calendars are a good option because you can have endless amounts of columns.
Here are some of the columns we recommend for your inbound marketing success:
Title - The title of the landing page or blog post.
Author - The author for this piece, or who should be.
Keyword - What keyword will the piece be optimized for.
Publish Date - This is the day the post will go live, you may want a column for due date as well.
Status of Post - idea, draft, edit, proof or done - so that others know how things are progressing.
Topic/Category - What is the main topic of the piece, or category you plan to list it under.
Description - we use this so that the person with the idea can explain it extensively for others accessing the calendar.
Stage of Buying Process - Awareness, Consideration or Decision.
Type of Content - Blog post, email, landing page, thank you page, etc (although I do keep email and blog on their own calendars).
Persona - Which persona are you targeting - this keeps you on track.
CTA - Which call to action or landing page will you use in this piece.
Promotion - Has the piece been promoted extensively on social media.
Live URL - A live link to the piece so that you can easily open it.
On the other hand spreadsheets make it difficult to alert others as to the status of a document, give access to viewing it in different stages of production, allow for collaboration on the piece or to assign due dates that send alerts to various people on the team.
We've found that some of this can be done through Zapier automation, such as adding a Google event for every row in a spreadsheet or adding a row for each event in the calendar- alerts would have to be handled through the calendar.
*Update - If using Google Spreadsheets, each user who has access to the spreadsheets can sign up for notifications when changes are made to it. Go to Tools > Notification Rules. These can be sent immediately or daily based on your needs.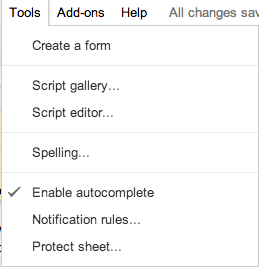 Although an enterprise solution, Kapost has all of the best features for their clients. Not only does it include content planning and the editorial calendar but it also assists in content promotion - an important and essential part of the content process.
Kapost offers content workflows, analytics, tasks and integrations with other tools. This is the very best editorial calendar out there, but it comes at a price.
A nice addition you can find with Kapost is the free academy they offer for content marketing. The information here is a great way to step up efforts in content and inbound marketing even more if you have the time to check it out.
Starting at $25 per person, this isn't a bad option for having multiple calendars, tasks, ideas, and content types in one place. They also offer 5 additional accounts to have access for the entry level product, this allows you to give freelancers access without spending an additional $25 each.
The dashboard is a nice feature that shows where everyone on the team stands on each project. The benefits of using Divvy HQ is that everyone is in the same program, it has a higher level of security, and notes/ideas can be documented inside the program.
A free organization program, this tool is used commonly as an editorial calendar because it is so easy to use. Once you understand how to use the boards, lists and cards, Trello is similar to a spreadsheet that allows you to keep notes, tasks, assign members and much more in each 'cell' or card.
What I specifically like about Trello for an editorial calendar is that you can upload the content to the card, send alerts to other members, and drag and drop the cards if you need to rearrange your content.
The downside to using Trello is you don't see all of the same information about each piece at a glance, and have no access to the spreadsheet sorting options you would in Google or another file sharing program.
Another obvious choice for a calendar is the Google calendar. You can use alerts, set up multiple calendars for different topics or campaigns, invite unlimited team members and view the calendar as an actual calendar- something a spreadsheet doesn't mirror.
On the other hand, the lack of sorting features for personas, stages of the buying process and calls to action make it less than perfect.
Summary
I suspect sometime in the future Hubspot will offer an editorial calendar, if they find something that proves more useful than the spreadsheet (their current solution).
In the mean time, I spend time testing new products and options as they come available and if I see anything that can solve the editorial calendar problem for all, I'll be sure to share it.