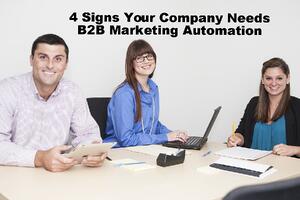 Is your sales department overwhelmed?
Are they constantly trying to find prospects and then working overtime to close those potential sales?
Yes, is probably your answer. But, that is how sales works, it's been this way for years- right?
Wrong!
Over the past few years technology has changed the way sales has to operate. Between Internet and Software options, the role of sales has changed, immensely in their favor.
One such way things have improved is through the use of B2B marketing automation. This type of software is being used by companies all over the world to make a drastic difference in their sales, leads and marketing processes.
Let's take a look at 4 signs your company needs marketing automation, you might be surprised at what you find out.
You Are Not Generating Enough Leads
While most companies worry they aren't getting enough sales, the real issue is they aren't getting enough leads. With marketing automation, lead generation can be automated through your website.
You'll need to produce enough traffic but with the right combination of marketing you'll collect the leads necessary to produce the sales you need.
Adequate Sales Are Not Being Closed
When enough leads aren't coming in, they can't be closed. In addition, when sales is working on both prospecting and sales they can't focus on just closing deals, cutting back the time investment they have to earn that extra revenue.
Another issue with the leads coming in is they probably aren't ready to become sales.
Unless they've come through an inbound marketing process, they may not come with the knowledge and understanding of your company and its services or products to be purchase ready. This adds to the time investment needed to convert each sale, again an issue that indicates your need for marketing automation.
Lack of Qualified Leads for B2B Marketing Automation
A major issue with leads and prospecting is the quality of leads collected. When using marketing automation, lead scoring is a feature of most softwares. Lead scoring helps you decipher the leads that are most likely to become sales, and then alert sales as to the possibility of closing that deal.
Marketing automation meets the prospect where they are in the sales process and presents them with corresponding information. No sales person has to set them up, answer their questions or begin the long process of nurturing them manually.
The Sales Process Takes Too Long
While it is no secret the sales process takes longer today than it did years ago, that doesn't mean it has to affect your sales. With marketing automation leads can be nurtured until they are ready to be closed as sales.
During this time a combination of email marketing, blogging and downloadable content will automatically bring leads through the educational stages of the sales process.
Summary
Marketing automation is the latest and greatest way to save time with unqualified leads, improve lead nurturing and help your sales team save considerable amounts of time prospecting.
Help your sales team maximize effectiveness by learning more about marketing automation, click the button below!