As I write this blog something will happen that I do not necessarily intend; I will subconsciously perform the Ctrl+S keystroke about a half dozen times, even though this particular editor does not natively support it. Some of you are smiling, knowing exactly what I am talking about and then there are those who may be wondering 'what IS he talking about?' I am referring to the default keystroke, in most popular editor programs, for saving your work. I have learned the same lesson as most everyone else who uses computers to create content: save your data, and save it often! Luckily for website administrators and content authors, this is a lesson that the Sitefinity CMS team has learned as well and have passed the benefits of this lesson on to content authors in the form of page revisions.
Page restoration through the page revision system may not be a feature you use very often, but trust me, when you need it (that's when, not if), you will be so glad it is there. The nice thing about page revisions is that you do not have to do anything special to create them, the process is a natural part of the Sitefinity workflow. When you couple the revision system with the Sitefinity Recycle Bin feature introduced in version 7.1, you have a lot of built in protection against those "whoops" moments.
How does it work? Well, it's a simple as this: whenever you publish a page or re-publish a page, a revision is created. This revision can then be used to restore a page to a previous state at any time. Let's take a quick look at how to access the page revisions and how to use them.
Step 1: Find the page you want to revise in your page tree, and select the Actions drop down for your page.

Step 2: Under the "Edit..." section of the context menu, select "Revision History" Note: If you are editing a page, you can also find a Revision History link in the upper right portion of the Publish toolbar.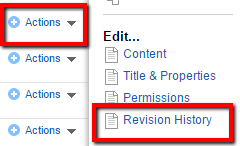 Step 3: Find the revision you desire to restore to, and click it's version number. (e.g. - 2.0, 14.0, etc) Doing so will open the page in a preview mode.
Pro Tip: Whenever you publish a page, go to the Revisions History for that page and add a note about what changed/why, this will help immensely when trying to decide which revision you may want to go back to!

Step 4: Decide if this is the version you truly want to revert back to, and if so, simply hit the 'Revert to this version' button in the upper left side of the page. This action will take you back to the very familar "Page Edit"
Important: Your page is not yet restored, you must perform Step 5!!

Step 5: The final Step to perform is to Publish your page. Now the "old" revision will become the most recent revision. (Don't forget to add that note!)

That's it! As you can see Telerik's Sitefinity CMS has made reverting back to a previous page revision about as easy as it can be. And that note feature is super handy too. While you still want to keep your wits about you as you create and publish your content, you can rest a little easier knowing that you're just a few quick clicks away from being able to revert back a revision or two if you need to do so.