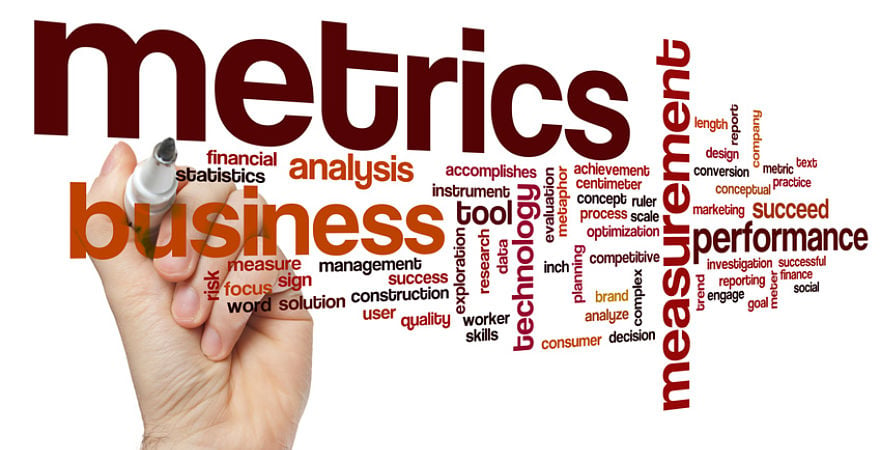 The good news for marketers is that almost everything done using the Internet for marketing can be measured and analyzed. The bad news? There are massive amounts of data available through Google Analytics, HubSpot, social networking sites, email marketing software, CRM software and a wide array of apps. The challenge for marketers is to zero in on the data that is most helpful to making good business decisions.
In this article, we'll focus on the key marketing metrics that should be tracked, measured and analyzed by energy service companies (ESCOs). ESCOs are retail energy suppliers that sell electricity and natural gas to residential and commercial users in deregulated markets.
The key marketing metrics fall into four categories:
Traffic Generation – Data that tells you if you are attracting the right visitors to your website.
Lead Generation – Data that tells you how effective you are in getting your website visitors to become leads.
Customer Acquisition – Data that tells you which marketing actions are most/least effective in closing leads into customers.
Return-On-Investment (ROI) – Data that shows marketing's contribution to the bottom line. Why measure ROI? According to HubSpot, "marketers that measure inbound ROI are 17 times more likely to see the same or greater ROI over the previous year."1
Traffic Generation Metrics
ESCOs use a variety of marketing tactics to raise brand awareness and attract visitors to their websites and social sites. Common marketing tactics include TV and radio advertising, email blasts, print ads, digital ads, direct mail, trade shows and telemarketing. Each of these tactics includes a "call-to-action," usually directing the viewer/reader to go to a website or call a telephone number. Each call-to-action can be set up to be a measurable event that tells you how effective each marketing tactic is in attracting visitors.
1) Visits
Monitor the number of monthly website visitors you receive from these channels:
Organic search
Paid search
Referrals from other websites
Social media sites
Email marketing
Direct traffic
Other campaigns such as TV/radio ads, print ads, direct mail, phone calls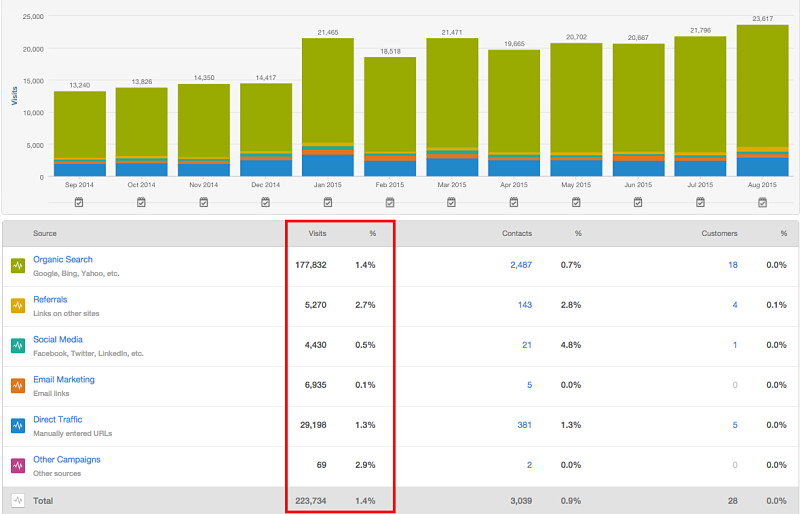 2) Mobile Traffic
For many companies, more than half of their website traffic comes from smart phones and tablets. Knowing which devices users use to access your website can help you configure site pages, landing pages, forms and blog articles to provide the best user experience. You can access mobile traffic information through Google Analytics.
3) SEO
Search engine optimization (SEO) is critical to ensuring that your website can be found by the visitors you most want to attract. Here's what to measure:
Keywords – Look for how your website ranks for each of your keywords, how your competitors rank for them and how much traffic they are delivering to your site.
Inbound Links – Monitor the number of links you have from other websites to make sure they are growing each month. Also, check to make sure your site is linked from your trade associations and other industry sites.
Page Performance – Check all of your website pages periodically to make sure there are no SEO problems, such as a missing meta description. Also, monitor your top ten performing site pages and landing pages. Are these the pages you expected to be in the top ten?
4) Blogging Effectiveness
Weekly or more frequent blogging is one of the most effective ways to attract the visitors to your website. Monitor which blog articles are delivering the most views. This can give you insight into what visitors are most interested in and help in preparing future blog editorial calendars.
5) Social Media
Software such as HubSpot's Social Inbox will show you which social networking sites your prospects and customers use most and provide all the tools needed to effectively engage them.
Lead Generation Metrics
Getting a lot of website visitors is fine, but it doesn't mean much unless many of those visitors are converting into leads and, eventually, customers. Websites should be designed around buyer personas with easy-to-follow conversion paths to ensure that more of your website visitors will become leads.
6) New Leads and MQLs
Monitor the number of new leads you receive each month by channel, similar to the "Visits" metric. Which channels are delivering the most leads and the highest visit-to-lead conversion rate.
Also, monitor the number of marketing qualified leads (MQLs) you receive each month. MQLs are those leads that are more deeply engaged and ready to be handed over to sales for follow-up.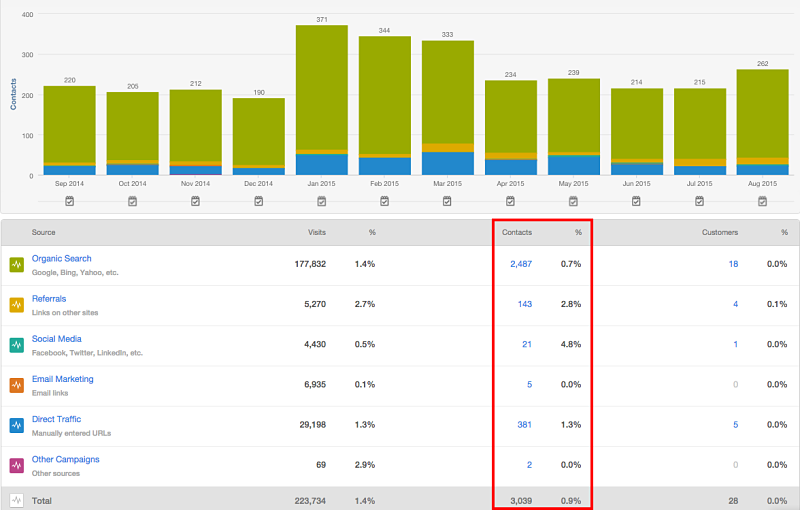 7) Content Effectiveness
Monitor which landing pages are providing the most leads. Also, look for any landing pages that have a visit-to-lead conversion rate below 20 percent, which may indicate a problem with that page.
8) Email Campaign Effectiveness
Monitor email campaigns to determine which campaigns are most effective in delivering new leads. Compare open and click-through rates for your various campaigns to identify trends.
Customer Acquisition Metrics
For ESCOs, the goal of your marketing approach is not just to generate more electric and natural gas leads. You want those leads to become long-lasting customers.
9) New Customers
Monitor the number of new customers you acquire each month by channel, similar to the "Visits" and "New Leads" metric. Which channels are delivering the most leads and the highest lead-to-customer conversion rate?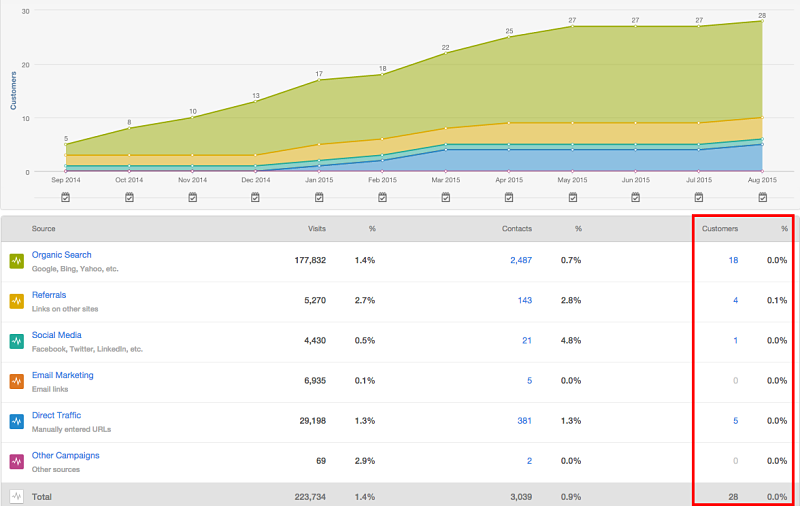 10) Lead Nurturing Effectiveness
Marketing automation software such as HubSpot allows you to create personalized lead nurturing campaigns designed to move your leads closed to a purchasing decision. Monitor lead nurturing campaigns to determine which are the most effective in acquiring new customers. Also, look at individual elements of a lead nurturing campaign to determine which steps are most/least effective in acquiring customers.
ROI Metrics
How do ESCO CEOs, CFOs and CMOs know if their sales and marketing investment is contributing to the bottom line? Here are the metrics to measure and track.
11) Customer Acquisition Cost (CAC)
How much does it cost to acquire a new customer? CAC can be calculated by dividing the sales and marketing budget by the number of new customers. For example, if your annual sales and marketing budget is $2,500,000 and you acquire 10,000 new customers, your CAC is $250 per customer.
12) Customer Lifetime Value (LTV)
The LTV of a customer is determined by subtracting the average customer gross margin from the average customer revenue and dividing that number by the customer turnover or churn rate. For example, if your average residential customer pays you $600 per year, your gross margin is $300 and your churn rate is 30 percent. The LTV for this customer would be $1,000 (i.e., $600 - $300 / 30%).
13) LTV:CAC Ratio
Next you need to look at the lifetime value of your customer compared to the cost to acquire that customer. In our example, it costs $250 to acquire the new customer but that customer is expected to pay you $1,000 over their lifetime as your customer. Here, the LTV:CAC ratio is 4:1, which is a pretty good ROI.
14) CAC Payback
Finally, you'll want to determine how long it takes to get paid back for a new customer acquisition. Divide your CAC by the monthly gross margin adjusted revenue number that was calculated in determining the LTV. In our example, our CAC is $250 and our monthly gross margin adjusted revenue number is $25 (i.e., $300/12 months). Our CAC payback is ten months. Assuming that new customers are signed to a 12-month contract, you would cover your acquisition cost even if they decide to leave after the contract period.
Conclusion
The marketing metrics you focus on most closely should be driven by your business goals. If your business is just getting started and your main goal is to raise brand awareness by attracting a lot of visitors to your website, then the key marketing metrics you should track are for traffic generation. If your business is in a rapid growth stage and your goal is to significantly increase qualified leads and customers, then those are the metrics you should primarily focus on.
Analyzing marketing data is important because it can tell you what is happening with your marketing strategies and why it's happening. You can then alter your strategies based on real results, not guesses or assumptions.
It's always important to show how marketing contributes to the bottom line. This is what CEOs and CFOs are most interested in and why marketers need to track and measure ROI metrics.
1 HubSpot's State of Inbound 2014-15